Computers for Public Use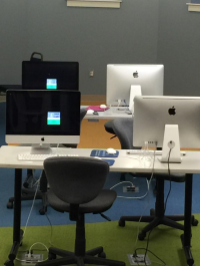 Our computer lab is located on the lower level of the library. There are ten desktop computers and laptops located next to the Reference Desk and four iMacs in the Young Adult Area for public use. All of these computers have access to the Internet, and feature basic applications, including Microsoft Office. All computers have full color or grayscale printing capabilities to our Print Release station.
The Print Release station will allow you to access, pay for, and print anything from one of the Public Access Computers in the Computer Lab, in the Young Adult Area, upstairs by the Circulation Desk, or in the Children's Room. You can also make copies in color or grayscale.
Print jobs and copies cost $0.20 per page in black and white, or $0.50 per page for full color. Scanning to email and USB is $0.25 a page. Faxing is $1.00 per page side
On the main level is a Business Center with large format printer with copier, fax and scan capabilities.
There is also a Hippa Level 3 Shredder in the Business Center that costs $1.00 per minute. The machine averages about 125 pages a minute, and can also shed creidt cards and CD's.

Wifi
There is one Wifi network at the library that automatically connects your device to the closest router. The name of the network is "Library." There is no password and the network is free for the public to access.
On the Calvin C. Gould Library Green, Open Cape Broadband is available. You will be required to enter your first name and email address in order to use the network. This network is available 24/7 from our parking lot and on the Library Green.

Computer Policy
---